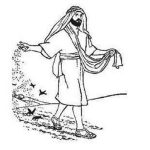 The parable known as "The parable of the Sower" is really a parable of the soils (Mt 13:3-8). The sower and the seed are the same in each. But the soil is different. The sower scattered the seed but it fell upon different kinds of soil: (1) wayside where people walked, hardened and packed down; (2) stony ground where the soil was thin, no depth; (3) thorny ground overgrown with weeds that choked out the young plants; (4) good ground where the seed grew and produced much fruit. Jesus explained that the "seed is the word of God" (Lk 8:11). The success of the implanted word depends on the type heart on which it falls. Some hear the Scriptures and believe and others hear but show no interest, or only a mild curiosity. Others show some interest but their spiritual interest is choked out by "cares and riches and pleasures of this life." The seed is good, but the condition of the soil, the attitude of the hearer, makes all the difference.
What kind of "soil" are you? (1) is your heart hardened through sin's deceitfulness? (Heb 3:13). Do you not want to hear anything that might threaten your lifestyle? (2) Or do you have a stoney heart, one that is shallow and without root (Eph 3:17)? (3) Are you classified having a thorny heart, because you have too many other interests, pleasures and cares of this life that choke out Jesus' words (Heb 11:25)?
Paper Pulpit book of 391 sermons, $7 ppd.