September 27, 2015
HONEY FROM THE ROCK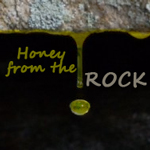 One of God's promises to His children is that He will satisfy us with "honey out of the rock" (Psalm 81:16). Honey is one of the sweetest things and rock is one of the hardest. What is God telling His children here?
You are going to have hard places in life. You will run up against the rocks. But do not be discouraged! God can bring you sweetness out of the hard experiences of life.
Joseph seemed to have nothing but rocks for 13 years… sold into slavery, thrown into prison because he would not stoop to sin – then forgotten. But when it was over, God brought him honey out of the rock, making him second ruler over all Egypt. (Gen 38-50)
And David. Anointed King of Israel, but hunted like a common criminal by Saul who tried to kill him. He had to flee and live in caves, but out of all his struggles came the most beautiful Psalms. Many of them have three divisions: tears, trust and triumph. He got his eyes off his own difficulties and back to God and faith. Then his trials are replaced by triumphs. He receives honey out of the rock.
James writes: "Consider it pure joy, my brothers, whenever you face trials of different kinds, because you know that the testing of your faith develops perseverance." (Jam 1:2-3 NIV)
Consider the trials Jesus faced on earth: born into a poor minority race. Killed, then raised from the grave to become Savior of mankind!
Paper Pulpit book, 407 pages for $10 donation (postpaid).