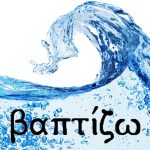 "Baptist" ("Baptizer") in the Bible was the occupation of "John The Baptizer" (the immerser). His parents were Elizabeth and Zacharias. He was destined to be great. "Many shall rejoice at his birth. For he shall be great in the sight of the Lord" (Lk 1:14-16). He "remained in the deserts till the day of his showing unto Israel" (Lk 1:80).
He preached righteousness in the area of the Jordan "because there was plenty water there" (Jn 3:23). This was necessary because immersing (this is the translation of the Greek word required sufficient water to dip his converts. They came from the whole region to the wilderness so they could hear him preach "repentance and forgiveness of sins"(Lk 3:2-19). He was exceedingly courageous, not hesitating to rebuke king Herod because of his sinful marriage and "all the other evil things he had done." Herod was enraged and locked him up in prison. His occupation was to preach and immerse "for forgiveness of sins." Our English Bibles transliterate the Greek word as "baptized" so as not "to offend" those who change to sprinkle or pour, hiding the true action. John immersed Jesus Christ "to fulfill all righteousness" (Lk 3:21-22). He was fearless in preaching. This led to his being beheaded.
His calling, his occupation was "o baptistes" (Greek, anglicized as "the baptist"). "A Baptist, Baptist Church, Baptists" are unknown in the Bible. The Baptist Church did not exist until 1607 AD, too late to be the true church of Christ (Rom 16:16).