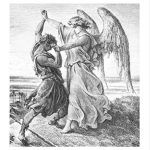 Angels are not easily recognized. The Bible says "Be not forgetful to entertain strangers: for thereby some have entertained angels unawares" (Heb 13:2). God's angels come disguised, for they do not always appear to us in a burst of light or power. An angel wing may have grabbed you as you were about to slip and fall … or was that smile that lifted your spirit when in despair. "For he shall give his angels charge over thee, to keep thee in all thy ways" (Psa 91:11).
Artists always picture angels as females, but the Bible never mentions them as such. We can all be as an angel responding to a still small voice stirring within us, a whisper that says "Go. Reach out. Speak the Word of salvation. Share a coat or a meal. Sing a hymn to a downcast soul. Turn the other cheek."
In the days of the early church, Peter was in prison guarded by soldiers when an angel awakened Peter saying, "Quick, get up. Go tell the people the message of this new life!" The chains fell from his wrists and he was free and walked out of the prison and began "filling Jerusalem" with the gospel of Christ (Acts 5:17-32). Another time church members concluded an angel had released Peter from prison (Acts 12:1-19).
"The angel of the Lord encampeth round about them that fear him, and delivereth them" (Psa 34:7). "Behold, I send an angel before thee in the way…" (Ex 23:20). See also Rev 22:1-9; Heb 1:14; Judges 6:12.
Paper Pulpit book of 391 sermons, $7 ppd.