July 10, 2016
ASK, SEEK, KNOCK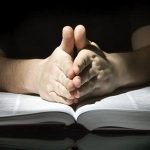 The goal of prayer is for God to hear His children. The Christian is given the privilege of asking favors of the One Who has all power and authority. "Ask of me and I will give" (Psa 2:8). Jesus told His disciples, "Ask and it will be given to you; seek and you will find; knock and the door will be opened to you" (Mt 7:7).
God said, "Ask me…" (Isa 45:11-12). Everything we do is dependent upon God and His will. The shortest verse in the Bible has only two words in the original Greek language, translated into three words in English: "Pray without ceasing" (1 Thess 5:17). The Psalmist wrote: "My soul, wait… upon God" (Psa 62:5). Jesus told His disciples, "If you believe, you will receive whatever you ask for in prayer" (Mt 21:22). Our prayers must be "believing and not doubting" (Jam 1:6). Sometimes we do not receive because our motives are wrong, seeking our own pleasure (Jam 4:3). God said: "Call unto me, and I will answer thee and show thee great and mighty things" (Jer 33:3). Our faith is only powerful (omnipotent) when on its knees.
"The prayer of a righteous man is powerful and effective. Elijah was a man just like us. He prayed earnestly that it would not rain, and it did not rain on the land for 3 1/2 years. Again he prayed, and the heavens gave rain and the earth produced its crops" (Jam 5:16-18).
Paper Pulpit book 391 sermons $10
About The Author

Alvin Jennings