November 6, 2016
JUST IMAGINE!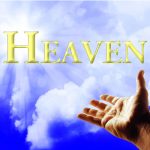 "Eye hath not seen nor ear heard, neither hath it entered the heart of man the things which God hath prepared for them that love him" (I Cor 2:9 KJV). The songwriter said, "I can only imagine!" He pondered: Shall I kneel before Him? Shall I sing Hallelujah? Or will I be able to do anything, surrounded by such glorious majesty?
We cannot stay here, for the sentence of death is universal (Job 14:1-2; 7:6; I Pet 1:24). Here we have no continuing city (Heb 13:14). Death is not an annihilation, but a transition to a glorious eternal home if by His grace we are found faithful to the end (He 9:27; Lk 20:37-38). We are to "set our minds on things above where Christ is at the right hand of God" (Col 3:1-2; Phil 3:20). Heaven is a prepared place for prepared people (Amos 4:12).
It is a mansion, our Father's house (Jn 14:1-4). The streets are paved with pure gold (Heb 11:10). We shall be given a "crown of life" (2 Tim 4:7) as an inheritance in this land of fadeless day. For these rewards, many suffered reproaches and even martyrdom. Here we are but strangers (I Pet 2:11). We have a desire to depart so we can see Christ and the Father face to face forever (2 Cor 5:8; Rev 22:4; I Thes 4:17). Yes, we shall be re-united with loved ones, the saints of all the ages (Mt 8:11; 2 Sam 12:23).
The Bible is God's brochure on heaven!