September 7, 2014
SUN AND SHIELD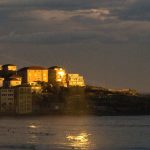 "The Lord God is a sun and shield: the Lord will give grace and glory; no good thing will he withhold from them that walk uprightly. O Lord of hosts, blessed be the man that trusteth in thee."
(Psalm 84:11-12 KJV)
If you are in the midst of suffering, you might be compared to a person being in a cave which is so dark he cannot see. You need light to guide in the darkness and some kind of cover to shield you from your pain.
Jesus said, "In the world you will have trouble" (Jn 16:33NIV). Adversity, pain and misery can come to anyone on any given day. Illness, loss of loved ones, accidents. Why? Why does God who is good and all-powerful allow such things? A woman lies in her hospital bed awaiting an operation, afraid and praying for strength and comfort. A man whose business has failed due to his loss of health through cancer, with desk piled high with overdue bills, asks himself, "What have I done to deserve this? Have I been wrong in believing that God is kind and able to deliver me from this?"
Yes, sufferers do find answers in the Bible. "This is my comfort in my affliction" (Psa 119:50). His word is our sun and shield! God gives grace and glory when we do not understand. He is a "refuge and fortress … our rock and our salvation … a high tower for trouble hearts (Psa 91:2; 62:6; 18:2).
Ask us for more words of comfort.
(#334)