November 15, 2015
THE STORM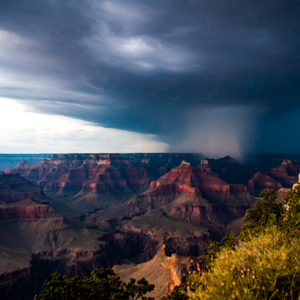 Life is not all sunshine. On the voyage to the peaceful shore, we encounter the storm, contrary winds that seem to thwart our purpose. Family struggles, business reverses, wars and rumors of wars, unjust criticism, sickness, temptations – all seem to go against us. See Mark 4:35-41 and be comforted. Jesus is in the boat with us. The storm may come suddenly, or it may come slowly as a dark cloud in the distance that later covers our sky and shuts out all light.
BEHAVIOR IN THE STORM.
Let us keep our faith, for we know Jesus is in the boat with us. Paul was in a terrific storm while sailing to Rome. For many days and nights the sun, moon and stars were invisible … but that great man never lost faith. Nor did he lose hope. He had confidence that the calm would follow the storm (Acts 27 and 28). Hope is the anchor of the soul, sure and steadfast. Jesus said, "Be of good cheer: I have overcome the world!"
RESULTS OF THE STORM.
While the storm seems cruel, it reveals character like the strength of the house is unknown until it is tested. Storms do not weaken us, but they reveal our weakness. When God wants to make a man, He does not shield him from life's adversities but places him where the storm will strike. The storm binds brother to brother, and it also binds man to the Master. "God is our refuge and strength, a very present help in trouble." (Psa 46:1)
book, 381 sermons, $10 postpaid.